Visitor Information
Travel by car
E 18: From Oslo or Kristiansand it is about 2 hours drive to Skien or Porsgrunn. From Sandefjord it is an approx. 45 min drive by car and from Larvik it is about 35 min.
E134: The road comes from Haugesund and continues across Haukelifjell to Notodden
Traveling by plane
Torp Sandefjord is located approx. 45 min from Skien / Porsgrunn and has direct buses and train connections to Skien with further correspondence upwards in Telemark or over to Western Norway. More information about transport from Torp Sandefjord can be found here.
Air taxi: here you can book a taxi to Torp
Oslo Airport Gardemoen is approximately 185 km from Skien / Porsgrunn and has direct train connections from the airport to Porsgrunn / Skien
Travel by ferry
Colorline services Hirtshals - Larvik and Hirtshals - Kristiansand
Fjordline has daily calls from Hirtshals to Langesund
Traveling by train
From Oslo, Stavanger and Kristiansand you can take the train to Bø. From Oslo you can take trains to Skien and Porsgrunn. Prices and timetables can be found here.
Travel by bus
You can take Haukeliekspressen, Grenlandexpressen and Telemarkekspressen from Oslo / Gardermoen, Sandefjord / Torp, Larvik, Haugesund and Bergen.
Plan your trip around Telemark at farte.no

Distances between cities inside/outside Telemark: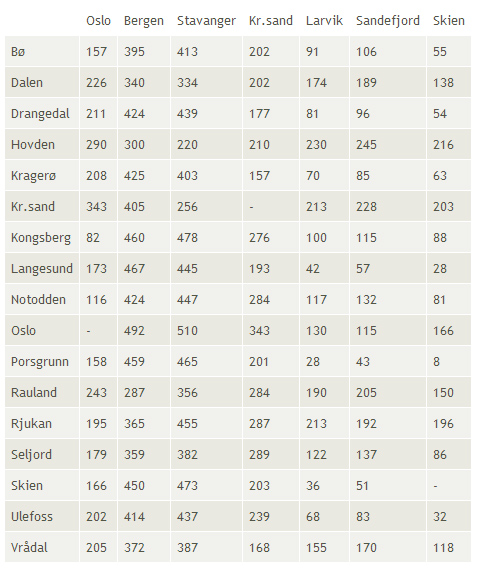 Ask our friendly staff at one of our Tourist Information about guidance along your way in Telemark. Some of the Information Centers are open every day, some are open during the high season.

Telemark is a complex county, with large temperature variations between seasons - and geography. Below is a table of average temperatures selected places in Telemark. Visit yr.no/telemark for weather forecast.
Tourist information offices in Telemark

Welcome to Bø, Nome and Sauherad Tourist Office. We will help you with information on activities, attractions and accomodation in the…

Morgedal Tourist Office is located in Norsk Skieventyr, the skimuseum in Morgedal. Morgedal is more known as the cradle of modern…

  Kviteseid Brygge/ Tourist Information Office. Open during summer season.